webmaster
Figura fortemente espressiva e di grande fascino di un personaggio storico che evidentemente incuriosiva già il piccolo Sardisco per la sua statura di scienziato che svelava il fascino misterioso dell'universo, dell'esoterico. Nei suoi occhi penetranti la volontà dell'uomo di conoscere….
This expressive historical figure of great charm was for the little Sardisco a great curiosity for the Univers and the Esoteric mystery. The wish of the man to know, in his penetrating eyes…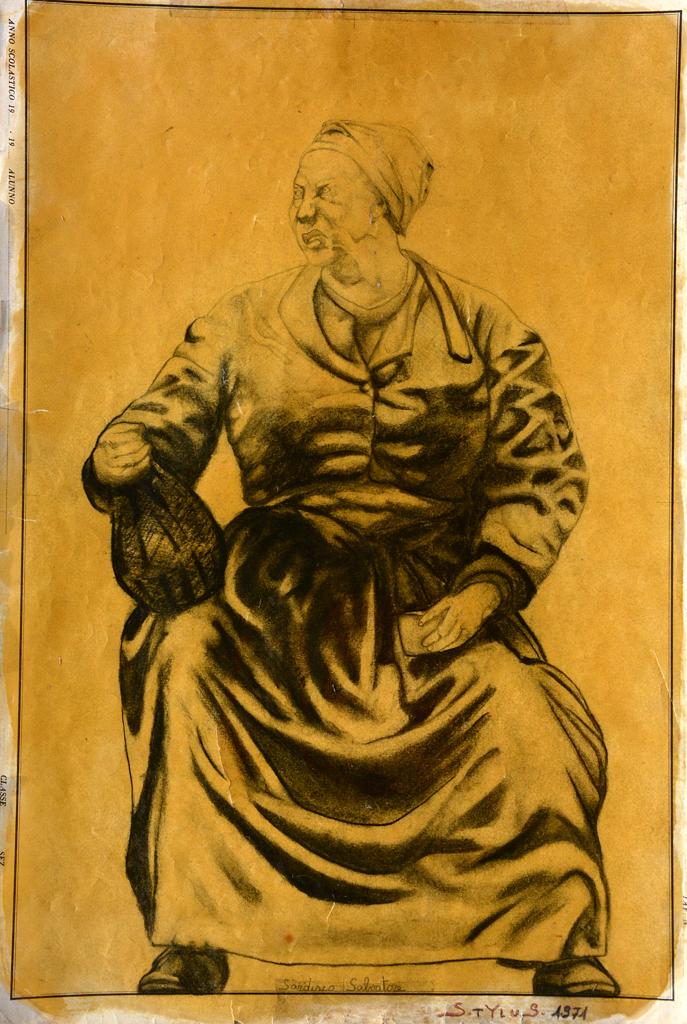 Opera di un Salvatore molto giovane che ci restituisce l'opulenza di un soggetto della vita popolare colta con una tecnica già matura.
Da notare i dettagli della veste, i chiaroscuri usati, le ombreggiature.

1970, 32.5 x 48 carboncino su carta
 Opera di chiaro intento esoterico con una limpida e allegorica rappresentazione delle energie interiori (chakra). Il messaggio indica, al contempo, la necessità di un controllo dei punti vitali per arrivare all'intuitiva illuminazione, alla contemplazione dell'Universo nella sua interezza. Di straordinaria intensità esplicativa il dettaglio degli "occhi", fonti inesauribili di energia.
Picture of clear, esoteric intent with a well-defined and allegorical representation of the internal energies (chakra) . The message shows the necessity of a control of the vital points to reach the intuitive illumination, the contemplation of the Universe in its entirety. The detail of the "eyes", inexhaustible sources of energy, has an extraordinary intensity.