La Salvezza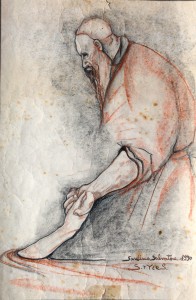 La Salvezza
1990, 32.5 x 48 carboncino sanguigno misto su carta
 Dopo il trapasso, la donna viene sostenuta da un santo, sollevata a nuova vita.
Ancora una volta, il tema della morte e risurrezione raccontato in modo semplice, pasolinianamente popolare e pur potente.
After one's final hour, the woman is supported by a saint, raised to new life.
Once more, the theme of the death and resurrection is quite simply, popular and with force, too.