Profili cosmici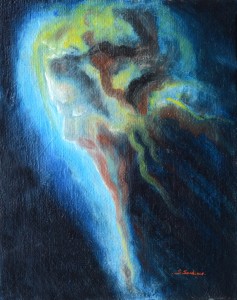 Profili cosmici
2000, 40 x 50 olio su tela

Opera di straordinaria potenza evocativa dove l'immagine di Cristo viene
rappresentata, nel contempo, in forma antica e genialmente nuova, con un uso eccellente non solo del disegno ma anche dei colori.
La figura qui riesce davvero ad essere, insieme, intuizione e pensiero pittorico, arte e filosofia. È il Cristo che si espande nel tempo e nello spazio, il volto di un'Energia che pervade di sè progressivamente l'intero universo e pare assistere dall'alto, misericordioso, alle vicende umane in un atto di amore e comprensione infinita.
In forma originale il Maestro ci restituisce la personalizzazione potente e affascinante di Colui che era, è e sarà; catturandoci in un'estasi estetica che solo i grandi artisti sanno fare.
L'opera, nata dopo una profonda meditazione, "esplode" sulla tela rivelandosi con la forza di un'Essenza vissuta nel proprio io interiore e nel suo valore esoterico con pennellate che inseguono, si sovrappongono, dandoci l'immensità del cielo universale, la purezza della luce e la dolcezza di un dio dal volto umano.
La cosmicità diviene sentimento, godimento spirituale.
Eccezionale per l'immediatezza con la quale ci viene incontro, opera magna di StYluS che, come novello Leopardi, dietro all'apparente semplicità, nasconde un appassionato travaglio personale e un'intensa ricerca tecnico espressiva.
Painting of extraordinary evocative power where the image of Christ is represented, at the same time, in an ancient form but genially new, with an excellent use not only of drawing but also fo colors. The figure is intuition and pictorial thought, is art and philosophy. It's the Christ that expands himself in time and in space; the face of an energy that progressively pervades of itself the whole universe and it seems to assist from the tall one, merciful, to the human stories in an action of love and endless understanding.
In an original form, Sardisco  gives us the powerful and fascinating personalization of who was, who is and who will be; capturing us in an aesthetical ecstasy that only the great artists can.
Profili cosmici was born after a deep meditation and now explodes on canvans revealing itself with the strength of an essence lived in the internal Sardisco's soul, in its esoteric value with strokes that chase and overlap, giving us the whole universal sky, the purity of the light and the sweetness of a God with human face.
The cosmic sense becomes feeling and spiritual enjoyment.
Profili cosmici is great for the immediacy which is on our way; it's StYluS's magum opus behind an apparent simplicity. It's hides an impassioned personal suffering and an intense search technical expressive.